Pierre Peters
Pierre Péters Brut Blanc de Blancs Cuvée Spéciale Les Chétillons 2013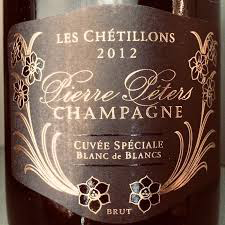 Pierre Peters
Pierre Péters Brut Blanc de Blancs Cuvée Spéciale Les Chétillons 2013
Additional information
| | |
| --- | --- |
| Weight | 4 lbs |
| Dimensions | 4 × 4 × 15 in |
Pierre Péters is a hidden treasure of Champagne . .
https://www.hydeparkgourmet.com/product/pierre-peters-brut-blanc-de-blancs-cuvee-speciale-les-chetillons-2013/
This Product in Reviews
The enthusiasm over this wine all over the world is huge—and that's before anyone has had a chance to taste a mature bottle. Mesnil's wines take a long time to mature, but champagne from Peters offers from the start an accessible fruitiness that resembles tangerine and a large portion of butterscotch and nut aromas. With age they become majestic and deep as a water well, full of coffee and walnut aromas and a fleeting vibrant exotic fruitiness.