Pierre Peters
Champagne L'Etonnant Monsieur Victor MK.13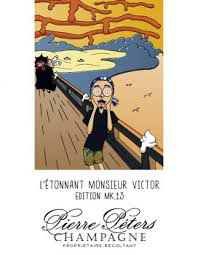 Pierre Peters
Champagne L'Etonnant Monsieur Victor MK.13
Additional information
| | |
| --- | --- |
| Weight | 5 lbs |
| Dimensions | 18 × 5 × 5 in |
For the optimum development of this Grand Cru  100% Chardonnay champagne, we allow L'Etonnant Monsieur Victor to age for 6 years on a natural cork in the cellar.
https://www.hydeparkgourmet.com/product/pierre-peters-champagne-letonnant-monsieur-victor-mk-13/
This Product in Reviews
L'Etonnant Monsieur Victor is above all a Péters' family project and adventure. This surprising and extraordinary wine goes against the current trend of single-vintage, single-vineyard Champagnes and is elaborated in accordance with the time-tested Champagne savoir-faire of multi-vintage blends.