Amarena di Cantiano Morello Cherries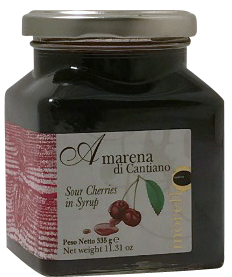 Amarena di Cantiano Morello Cherries
Additional information
| | |
| --- | --- |
| Weight | 2 lbs |
| Dimensions | 5 × 5 × 5 in |
Ideal on ice cream, combined with other fruit, or served with panna cotta. Excellent in cocktails!
https://www.hydeparkgourmet.com/product/amarena-di-cantiano-morello-cherries/
This Product in Reviews
From the region of Marche comes Amarena di Cantiano, wonderful sour cherries.
The Lupatelli family discovered that the region's Amarena di Cantiano cherries were disappearing, have made an effort to sustain this incredible fruit, by working to grow local varieties since 2000. The cherries are grown organically, picked on their own land, and processed on their facility at the same property.